The Winner of the Freedom Gen jewellery giveaway is Nadine!!
Thanks to all that entered! I will be having more exciting giveaways soon so stay tuned.
*winner was selected at random by Random Picker
As a young child, I was quite a tomboy. I loved goofing around with my boy cousins playing "Power Rangers," pretending to morph into a Pterodactyl or Saber-toothed tiger (Yellow or Pink Ranger of course) or staging car chases with the notorious Batmobile. Those of you who spent your childhood in the early 90s definitely should know what I'm referring to! As I grew older, I started to discover my love for fashion and played with a lot of different styles, many that have caused me to look back and ask myself what was I really thinking (I practically had a pouf hair combover in high school). I've definitely taken a lot of fashion risks and still push myself to try on things that might make the average person uncomfortable. I really debated going to fashion school after high school but my cautious side took over and I decided to go into a field that made me feel more secure: nursing. I am very grateful for what has brought me to where I am today and feel beyond privileged to share my fashion and life journey on this blog.
Now to get on to what this post is really about...I thought pink hearts would be appropriate considering the month we are now in, February! I understand that everyone may not get as excited about Valentines Day as I do, but even if you don't currently have a specially someone in your life, it is a great day to get together with the friends or family and appreciate one another! Today's outfit was inspired by just that! I'm wearing a heart sweater with a lace-overlay skirt, BCBG studded pumps and my arm and finger candy is c/o
Freedom Gen
jewellery.
Photo credits go to
Alanna Milaney
once again, thanks Girl! She also has a new
Facebook page
so be sure to check it out!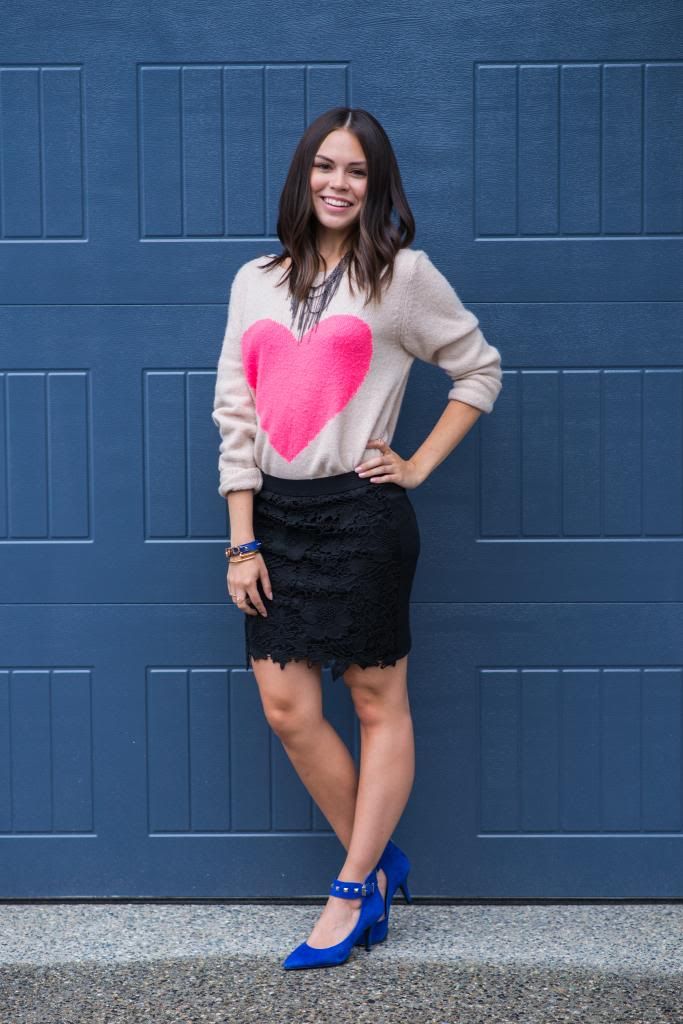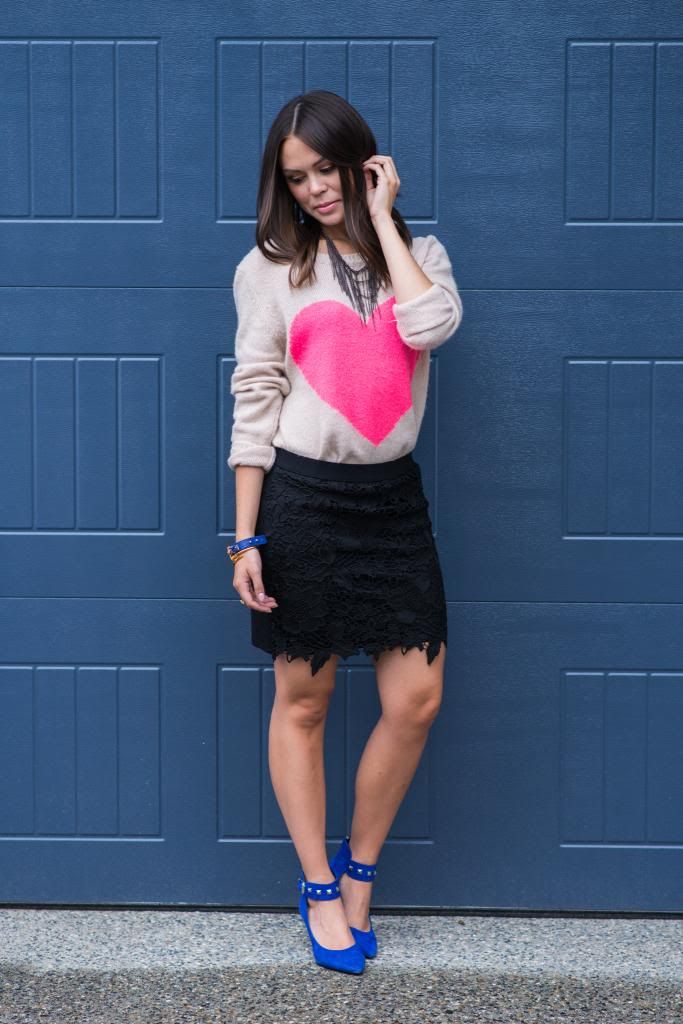 I also had the privilege of partnering with
Freedom Gen
to present to you this fabulous giveaway of some of her most popular pieces. See below for contest details!
GIVEAWAY NOW CLOSED. Thanks to all that participated. I will be announcing the winner sometime in the next week. Good luck to all who entered!
Jewellery included in giveaway:
Want to win? Follow 3 easy steps below:
2. When you're at the Facebook page, click "share or repost" to share giveaway post with friends (or you can click the Facebook tab at the end of this post to share that way)
3. Leave a comment below (here on this site andshedressed.blogspot.com) with your name and state what what jewellery you like to wear most. Also private message me your email and full name on Facebook so I can contact you if you win.
*If you don't have an account, comment as "anonymous" and don't forget state your name!*
For additional entries to win the contest:
Share giveaway on Instagram and/or twitter with #andshedressedgiveaway and tag me (@rinasamantha & @freedomgen for Instagram & @andshedressed for twitter)
One extra entry for each! And make sure you tell me in the comments below which additional entries you made!
Contest ends February 14, 2014 and winner will be selected at random. *Contest open to Canada and USA only*
If you can't wait for this giveaway to end and would like to check out some of her jewellery now, check out Freedom Gen's website
here
!